Ask NHS App
Download the FREE 'Ask NHS' App Today
Check your symptoms, digital access to NHS 111, Book GP appointments, get trusted self-care advice 24/7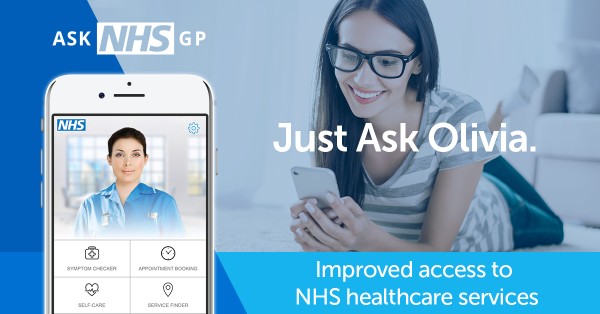 Where do I get the app from?
ASK NHS GP is available on both IOS, Android phones and smart devices. It is free to download from the App Store (Apple devices) or Google Play (Android devices).
For patients that need to see a GP, it is able to prioritise into more urgent appointment slots based on their needs and offer less urgent needs a later appointment. Patients are able to directly book an appointment without having to call the practice. In addition, a transcript of the questions and answers is sent to the patients practice, helping to make the consultation more efficient and effective.
Can I book an appointment with my GP?
Depending on your symptoms, if you need to see a GP the app will direct you to appropriate appointments available at your GP practice.
Who can access the app?
If your practice has connected to the ASK NHS GP app you will be able to book GP appointments if appropriate. Anyone can download the symptom checker. Patients under the age of 16 years old or with mental health symptoms are advised to contact their GP.
When can I use the app?
The app is available to access 24 hours a day, 7 days a week on your personal device.
Download the app: